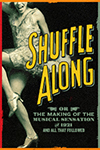 Shuffle Along
- Music Box Theatre
Hinta/henkilö alkaen € 174.20
In May 1921, the new musical Shuffle Along became the unlikeliest of hits, significantly altering the face of the Broadway musical, as well as that of New York City.
Highlights:
- Ensure your tickets to this hit musical
- Get the best available seats in your chosen category
- Listen to an jazz score
By the time Shuffle Along stumbled into town after a back-breaking pre-Broadway tour, it was deeply in debt and set to open at a remote Broadway house on West 63rd Street. But with an infectious jazz score and exuberant dancing, Shuffle Along ignited not just Broadway, but all of New York City.
Because of Shuffle Along, Uptown and Downtown met - and became one.

The 2016 Shuffle Along, created a new by a remarkable constellation of artists, brings the original show back to glorious life, while simultaneously telling the heretofore unknown backstage saga of its creation -- and how it changed the world it left behind.
Important information:
Audra McDonald will not appear in performances from June 20, 2016 through September 11, 2016. She will return on Tuesday, September 13, 2016.
How do I get my tickets?
Shortly after your booking is complete, you will receive an e-ticket by email. Just print out your ticket and bring it with you to the theater.

Important information:
- When booking tickets for a musical in New York, you will always be granted best seats available at the time of your booking. We have no influence on the exact seat and row number, as it is solely the theater that can appoint the seats. Within 36 hours after you have received your first booking confirmation, you'll receive an additional confirmation with your exact seats. These cannot be changed or altered as they were the best available seats at the time of your booking.
Tapahtumapaikan tiedot
Näytöksen tiedot
Ensimmäinen esityspäivä
2016-04-28
Kesto:
2 Hours 40 Minutes
Ohjeet

Take the subway to 42nd St. station

Katso karttaa