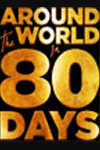 Around the World in 80 Days
- The New Theater at 45th Street
Around The World in 80 Days on Broadway in New York is of course adapted from Jules Verne's classic story. Book tickets for Around The World in 80 Days in New York here!

Around The World in 80 Days is a fun frolic and fantastic update of the Jules Verne classic. To win a bet, Victorian action hero Phileas Fogg and his acrobatic sidekick Passepartout must circle the globe and return to London inside of 80 days. Unknowingly pursued by a tireless detective convinced Fogg is a robber on the run, the fast-minded, fleet-footed pair traverse 4 continents

"A fun evening for kids and adults alike, Around The World In 80 Days is a rollicking voyage." - BroadwayWorld.com

We're running Off-Broadway! Called "A Whirlwind Romp" (NewJerseyNewsroom.com) and "A laugh riot" (veteran critic Michael Musto), Around the World in 80 Days is "High-spirited and cheeky...deliciously silly." (NY Daily News). The NY Times declares "High-tech razzle...Slick steampunk vaudeville...You'll admire the energy." And if you don't know the story, "Think 'Amazing Race' - only it's 1872." (NY Daily News).

Tapahtumapaikan tiedot
Näytöksen tiedot
Ohjeet

Take the subway to 49th St. station

Katso karttaa