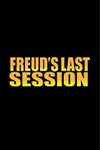 Freud's Last Session
- New World Stages / Stage 5
Hinta/henkilö alkaen € 37.30
Tickets to the succeesful play Freud's Last Session on Broadway in New York can be booked here. Do not miss Freud's Last Session when in New York!

Freud's Last Session centers on legendary psychoanalyst Dr. Sigmund Freud, who invites a young, little-known professor, C.S. Lewis, to his home in London.

Lewis, expecting to be called on the carpet for satirizing Freud in a recent book, soon realizes Freud has a much more significant agenda. On the day England enters World War II, Freud and Lewis clash about the existence of God, love, sex and the meaning of life - only two weeks before Freud chooses to take his own. Mark St. Germain's celebrated new play was suggested by The Question of God by Harvard's Dr. Armand M. Nicholi, Jr.

NB: When booking tickets for a musical in New York you will always be granted best seats available at the time of your booking. We have no influence on the exact seat and row number, as it is solely the theatre that can appoint the seats from best availability. Within 36 hours after you have received your first booking confirmation, your will receive an additional one showing your exact seats! These cannot be changed or altered in any way as they were the best available seats at the time of your booking!
Tapahtumapaikan tiedot
Näytöksen tiedot
Kesto:
80 minutes, no intermission
Ohjeet

Take the subway to 50th St. station

Katso karttaa