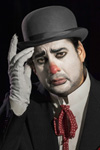 Cavalleria Rusticana / Pagliacci
- Metropolitan Opera
Hinta/henkilö alkaen € 95.80
Cavalleria Rusticana & Pagliacci returns to The Met and star tenor Roberto Alagna takes on the male leading roles in both operas. The production signed Sir David McVicar really heightens the melodramaticaction of this timeless verismo pairing. In the female roles we hear Eva-Maria Westbroek/Ekaterina Semenchuk (Cavalleria Rusticana) and Aleksandra Kurzak (Pagliacci)

Highlights:
- Experience these timeless verismo operas
- See and hear world class singers at one of the world's finest opera houses
- Get the best seats availabale within your category

What are Cavalleria Rusticana & Pagliacci about?

Cavalleria Rusticana: Set in a 19th century Sicilian village we get to follow five people during a tragic easter morning. The young Turiddu has returned from military service only to find out that his fiancée Lola has married another man, Alfio. As a revenge he has seduced the young Santuzza, and when the opera begins Lola, who is overcome by jealousy, has started a secret relationship with Turiddu.

Santuzza suspects that Turiddu and Lola is having an affair and approaches his mother outside of the church. The mother says that Turiddu is out of town, but Santuzza reveals that he has been seen in town and tells her about him and Lola.

Turiddu arrives and Santuzza is calling him out on his affair. Lola shows up only to mock Santuzza and enters the church followed by Turiddu. Also Alfio arrives looking for his wife and Santuzza tells him that his wife has betrayed him. He swears to get his revenge and challenges Turiddu to a duel that will stop only when one person is dead. Soon the villagers voices are heard chanting: "they murdered Turiddu".

Pagliacci: A group of comedians show up at a town square, greeted by the people, and invites everyone to that evening's show. The only woman in the company, Nedda, is coming out of their cart and Tonio tries to help her down but her husband Canio gets angry and slaps him. The crowd laughs but Canio tells them that also comedians are serious and if Nedda is unfaithful he will kill her.

The young farmer Silvio who has been in love with Nedda, and she with him, for a long time comes to the scene. He asks her to stop living the vagabond life and leave her husband and instead settle with him. She says yes. The conversation is overheard by Tonio who tells her husband, and he tries under threat to force Nedda to say the name of her lover.

The show starts and it is soon clear to the audience that what takes place on the scene is the exact same story as the one that just took place in real life. Colombine, the woman in the show, played by Nedda, has been unfaithful to her husband Pajazzo played by Canio. When he realizes that Colombine's words to her lover are the same as Nedda's to Silvio he rages and pulls his knife. Nedda is deadly wounded and screams for Silvio, he rushes to her but is also stabbed by Canio.


Cavalleria Rusticana / Pagliacci is sung in Italian with Met Titles in English, German, Italian and Spanish.

How do I receive my tickets?
When you have finished your booking, an e-ticket will be sent to your email adress. all you have to do is print it and bring it with you to the theater.
Tapahtumapaikan tiedot
Näytöksen tiedot
Kesto:
3 hours, 3 minutes
Saapumisohjeet

Take the subway to 66th St. Lincoln Center station

Katso karttaa