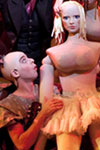 Les Contes d'Hoffmann
- Metropolitan Opera
Hinta/henkilö alkaen € 116.10
Jacque Offenbach's opéra fantastique Les contes d'Hoffmann (the tales of Hoffmann) plays at the Metropolitan Opera with tenor Vittorio Grigolo in the leading role of the tormented poet Hoffmann.

Higlights:
- Experience this exciting and dramatic opera which is Offenbach's only
- See, and hear, world class singers at one of the world's finest opera houses
- Get the best seats available within your chosen category

What is Les contes d'Hoffmann about?

At a tavern in 19th century Nuremberg, the tormented poet Hoffmann is drinking with his friend Nicklausse. The latter is really The Muse of poetry who has disguised herself as Hoffmanns friend, all she wants is for the poet to forget his love problems in order to focus on poetry only.

At the nearby opera house the prima donna Stella is performing. She has in a letter requested that Hoffmann comes to see her after the performance but his nemesis Lindorf gets his hands on the letter and is planning to go to the meeting himself.

Hoffmann starts to tell everyone about his life's three great loves and what happened to them.
The first one is Olympia, she is a mechanical doll, but Hoffmann is tricked in to thinking that she is a real woman. The second one is Antonia, she is a talented singer but her father will not let her singe because she is suffering from a mysterious illness. The father also tries to keep Hoffmann and Antonia apart.
The third one is the venetian courtesan Giuletta, he falls madly in love with her and thinks that she returns his feeling, but she is only seducing him on orders from a captain who wants her to steal his shadow from the mirror.

By the end of these stories Hoffmann is drunk and swears never to love again, and he explains that all the three woman are in fact the same person - the prima donna Stella. The muse reveals herself and Hoffmann is reached by the magic of poetry. Stella comes only to find Hoffmann drunk, he tells her he does not love her anymore and she leaves with Lindorf.
Les Contes d'Hoffmann is sung in French with Met titles in English, German and Spanish.

How do I receive my tickets?
- Shortly after your booking is complete, you will receive an e-ticket by email. Please print out your ticket and bring it with you to the Metropolitan Opera House.
Tapahtumapaikan tiedot
Näytöksen tiedot
Kesto:
3 hours 38 Minutes
Saapumisohjeet

Take the subway to 66th St. Lincoln Center station

Katso karttaa