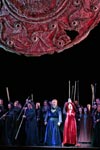 Norma
- Metropolitan Opera
Hinta/henkilö alkaen € 151.80
A new production of Bellini's Norma, signed Sir David McVicar, opens the Metropolitan Opera's 17/18 season. An all star cast including Sondra Radvanovsky, Joseph Calleja and Joyce Di Donato takes on this bel canto masterpiece under the baton of Carlo Rizzi.

Highlights
- See, and hear, Bellini's most famous opera
- Experience world class singers in one of the world's finest opera houses
- Get the best seats available in your chosen category

What is Norma about?
Gaul during the Roman occupation around 50 B.C. The druid priestess Norma is involved in a secret relationship with the Roman proconsul Pollione and have, despite a vow of chastity, given birth to two children. Pollione however has fallen in love with another virgin priestess, Adalgisa, and they plan to leave for Rome.

Norma soon finds out about the infidelity and is overcome by an urge to murder her children so that Pollione never can have them. Adalgisa who is loyal to Norma tries to convince Pollione to return to her but without luck.

Enraged by Pollione's unwillingness, Norma declares war against the Romans, and her father the high priest asks for a human sacrifice so their gods will grant them victory. Norma gives Pollione one last chance to return to her but he refuses, and in despair she confesses her sins to her father and the druids and offers herself as a sacrifice.
Pollione is overcome by Norma's grace and falls in love with her again. He rushes to the altar and takes place beside her as a sacrifice.

Norma is sung in the original language Italian, with Met titles in English, German, Italian and Spanish.

How do I receive my tickets?
Shortly after your booking is completed, you will receive an e-ticket by email. All you have to do is print your ticket and bring it with you to the thater on the day of the performance.
Tapahtumapaikan tiedot
Näytöksen tiedot
Ohjeet

Take the subway to 66th St. Lincoln Center station

Katso karttaa